Die Casting Defects - Causes and Solutions
Comprehensive textbook for die casting engineers. Provides basic procedures for reducing scrap and controlling defects; identifies 22 types of die casting defects with photomicrographs of each; provides technical details of causes and formation mechanisms of each; suggests solutions to correct each type of defect.
Item #E-515, 161 pages, 1997.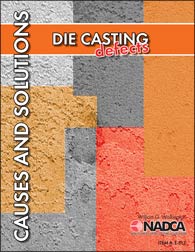 TABLE OF CONTENTS
Introduction
Chapter 1
A review of some of the major operational practices required to reduce or eliminate defects. Just knowing the cause of the defect and asking for a correction won't fix the problem.
Chapter 2
Surface Defects -- Those defects commonly called cold flow or non-fills.
Chapter 3
Laminations -- Defects from layers of metal forming during the process.
Chapter 4
Gas Porosity -- Internal porosity from trapped gas of various kinds.
Chapter 5
Blisters -- Surface manifestation of trapped gas.
Chapter 6
Flow Porosity --Surface or internal porosity from poor pressure conditions.
Chapter 7
Shrink Porosity -- Porosity from the volume change as the metal changes state.
Chapter 8
Sinks -- Surface depressions from shrinkage porosity problems.
Chapter 9
Leakers -- Porous sections of the casting.
Chapter 10
Cracks -- Visible and not-so-very visible cracks in the casting.
Chapter 11
Inclusions -- Foreign material that may cause machining problems.
Chapter 12
Solder -- Buildup of the cast material on the die, and damage to the surface condition of the casting.
Chapter 13
Carbon -- Deposits other than the cast material on the die causing damage to the surface condition of the casting.
Chapter 14
Erosion, Cavitation -- Removal of die steel and subsequent deformation of the casting.
Chapter 15
Outgassing -- Gas escaping from the casting during a painting or finishing operation that causes defective surface finish.
Chapter 16
Bending, Warping -- Deformation of the casting sometime after it is formed in the die cavity.
Chapter 17
Flash -- Excessive material extending from a parting line, often accompanied by dimensional deviation.
Chapter 18
Stained Castings -- Discolored castings.
Chapter 19
Waves and Lakes -- Decorative castings with small imperfections visible only under reflected light.
Chapter 20
Drags -- Surface area of the casting is broken by metal stuck to the die.
Chapter 21
Deformation From Ejector Pins (Pushed Pins) -- Casting is deformed by ejector pins.
Chapter 22
Cold Flakes -- Leakers and break in at the gate.
Chapter 23
Excessive Flux -- Corrosion or porosity from excessive flux.