Confidential Metalcasting Operational Cost Survey
In order to provide vital benchmark information for U.S. metalcasters, the 2007 Metalcasting Operational Cost Survey was commissioned by the American Foundry Society and North American Die Casting Association and conducted confidentially by Sapolsky Research, Inc. of Tallahassee, Florida. 64 companies participated in the survey, 11 from the die casting industry, and the results were combined for the entire industry as well as broken down by metal type, process type, employment size, and sales dollars. The results of the survey are detailed in this report.
Item #830, 64 pages, 2007.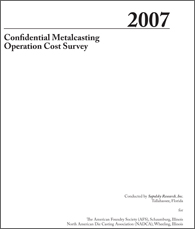 TABLE OF CONTENTS
| | |
| --- | --- |
| EXECUTIVE SUMMARY | 1 |
| | |
| SALES | 4 |
| Up to $10 Million | 5 |
| $10,000,001- $25 Million | 7 |
| $25,000,001 - $50 Million | 9 |
| $50,000,001 and Higher | 11 |
| | |
| EMPLOYMENT RANGE | 13 |
| 1-30 | 14 |
| 31-50 | 16 |
| 51-100 | 18 |
| 101-300 | 20 |
| 301 and Higher | 22 |
| | |
| MAIN METAL CAST | 24 |
| Iron | 25 |
| Aluminum | 27 |
| Steel | 29 |
| | |
| MAIN CASTING PROCESS | 31 |
| Sand | 32 |
| Permanent Mold | 34 |
| High Pressure Die | 36 |
| | |
| BAR CHARTS | 38 |
| Sales Range | 39 |
| Employment Range | 40 |
| Main Metal Cast | 41 |
| Main Casting Process | 42 |
| | |
| APPENDIX | 43 |
| Survey Form | 44 |